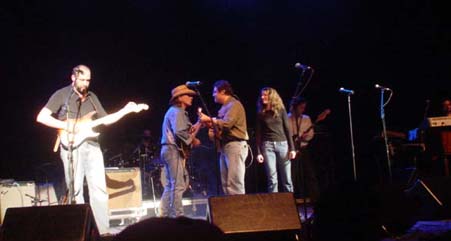 Edie Brickell:
The spirit of spontaneity is when youre really feeling it. I was blown away by the fact that I was listening to Dickey Betts on the same stage. I was definitely into what he was doing. I felt more like a listener than a performer, but I was definitely into it. Hes lifted my spirits as a guitarist like no other. To me, thats the best part of music: that you can do whatever you feel and hopefully get away with it. With an audience like this, that sort of wants that, you feel accepted and you can relax.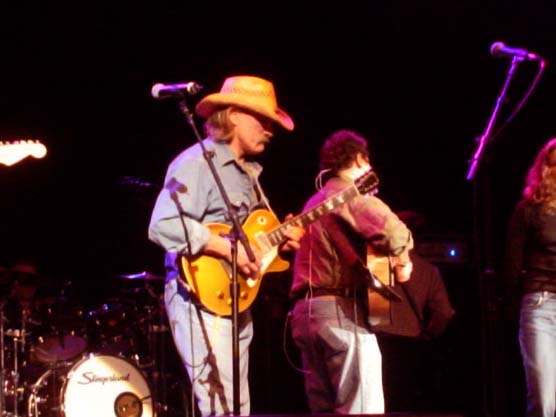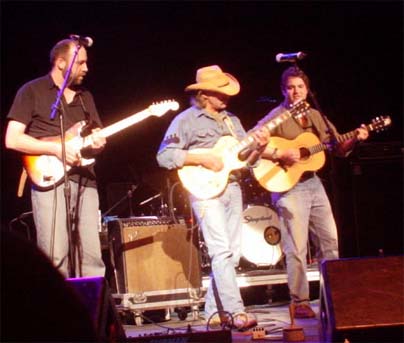 Dickey Betts:
[on minimal rehearsal time with Reid Genauer and the Assembly of Dust]: Thats the whole idea of it. The fear factor is kind of the fun part. I went out and had twenty minutes or so with the band at sound check and they had really done their homework. I got really settled down after I heard how great they were. So I felt pretty comfortable going in, but there's still a little anxiety, especially when you only have two songs. You don't have a chance to recover. Tonight, when I went out and saw the audience, I felt real comfortable. It's a very diverse rock and roll market nowadays. There's Madonna and all that and all the way on the other side, there's the jam band thing and I think it describes what a lot of us have been doing for a long time. It's great to see it being recognized as a genre. Its really approaching what the jazz guys have been doing for a long time.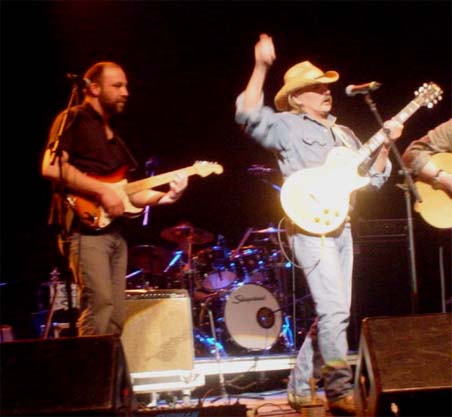 John Leccese, Assembly of Dust
[on Edie Brickell's nameless song]: We were in the dressing room and she was like, Let s jam, we've got some time. So Adam [Terrell] picked up his guitar and he just started playing some chords and out of nowhere, she just ripped these incredible melodies and lyrics off the top of her head. We did like an hour of just riffing back and forth on this random stuff. Then we opened our set with that and segued into "Blue Sky."